WTF is a common acronym used on the web on a daily basis. It can mean many things, depends on the user. Sometimes it can be used out of context. The world is evolving every day and thanks to the Internet we are now globally connected than ever.
The www is the highest form of pastimes (and work times). The advancement of technology in our lives is phenomenal and outstanding, it has been conformed and integrated into everyday living. Social networking is the go to for communication; from FB, YouTube, Twitter, to Pinterest and Snapchat, we cannot escape it. Makes you wonder how we'd managed without it?
I love the Internet. I really do, who doesn't? Over the years the Internet has become an addiction for many people. Thousands of ppl would be lost without the www. It's a daily fix! A high you need first thing in the morning – like coffee or last thing at night – like alcohol! And in between! From crazy stunts, to life hacks videos, write ups, social experiments, pranks, baking, home improvements, educational and so much more.
Some clips are cute and awesome; some are painful or awful to watch while others are downright cringe worthy. And then there's those which you can't unseen! We all have our preferences. It's twenty-four hour never sleeping; never ending territory foreign planet of crazy, mad, beautiful funny interesting posts.
There's soooo much going on!
Checking out my social network newsfeed was my source of escape from reality during a testing period. And it never disappoints. The newsfeed has everything you can imagine – I came across all sorts – from downright insane crazy to cute news. Personally, I prefer to shy away from the negatives and go for the positives to improve my moods; cute pets and babies' clips or anything that would make me laugh.
I was certainly put to the test a while ago. I didn't last two days while waiting for a new broadband reactivation. These things take weeks. I tried to get on with other things but was so bored; I felt bereft and lost and there was nothing interesting on TV! I ended up using a friends' Wi-Fi till mine was ready! LOL
Being online has it good and bad uses. All sort of clips are uploaded. We are now more informed about other countries, races, cultures, new skills and businesses. Lots of minds and horizons have been broadened – more people travels now than before –travel agencies are having a field day!
Yes, it all sounds great and dandy. We get to learn new words acronymed or abbreviated daily, learn new things, have better and faster ways of communicating and genuinely literally have the world in our palms! Isn't that great? It's fantastic!
However, the downside is, with as many good stories being uploaded, there are ten times more crappy ones.
Somehow, a warm-hearted video would still have negative reviews while a terrible video, which defies any sane explanations, would have positive ones.
This opens a floodgate of opinions. Literally 'EVERYONE' now have something to say! Even the quietest person wants to 'speak'!
YAY! We can now all say what we want, how we want from the confinement of our homes. The world has a VOICE! The 'silent' is deafening!
Welcome to the comments!
IMO the best way to describe the Comments Section is "the clashes of opinions with the uses of words as swords in multi duels combat" within the online community forums.
If words were physical weapons they would definitely kill (unfortunately they have on many occasions).
Being that I am HOH (Hard of Hearing), I rely on the comments to get an understanding of clips without subtitles. WTH did you say? WTF do you mean? WTF did i watch? The things people write!!?  You can only imagine them!
Clicking into the comments is literally like leaving morality at the door; humanity and compassion is thrown out of the window. A post is everybody's business. Once you upload anything to the Internet, you have adversely opened yourself to all sorts.
Some comments are so venomous, even a snake would be envious. Some are diabolic and destructive. There are no restrictions or rules. Dramas like no others. It's a show of it own!. The verbal claws, the verbal bullets, bombs spewed and fired! Each man to himself – you are on your own!
But, fear not, it's not all bad; there are ppl to quench the fire, the peace patrols and the inbetweeners to calm things down. Commenters come in all shapes and (fingers) sizes.
Trust me, the comments are never boring. The impacts are LOUD!
The comments below are comments from a video where two guys were robbing a store. One of the guy was distracting the shop owner/worker while the other was nicking things from some shelfs further down. Sometime later an armed robber came in with a gun. It was all captured on CCTV. CLICK for video link.
Read the comments below; it's comedy gold lol: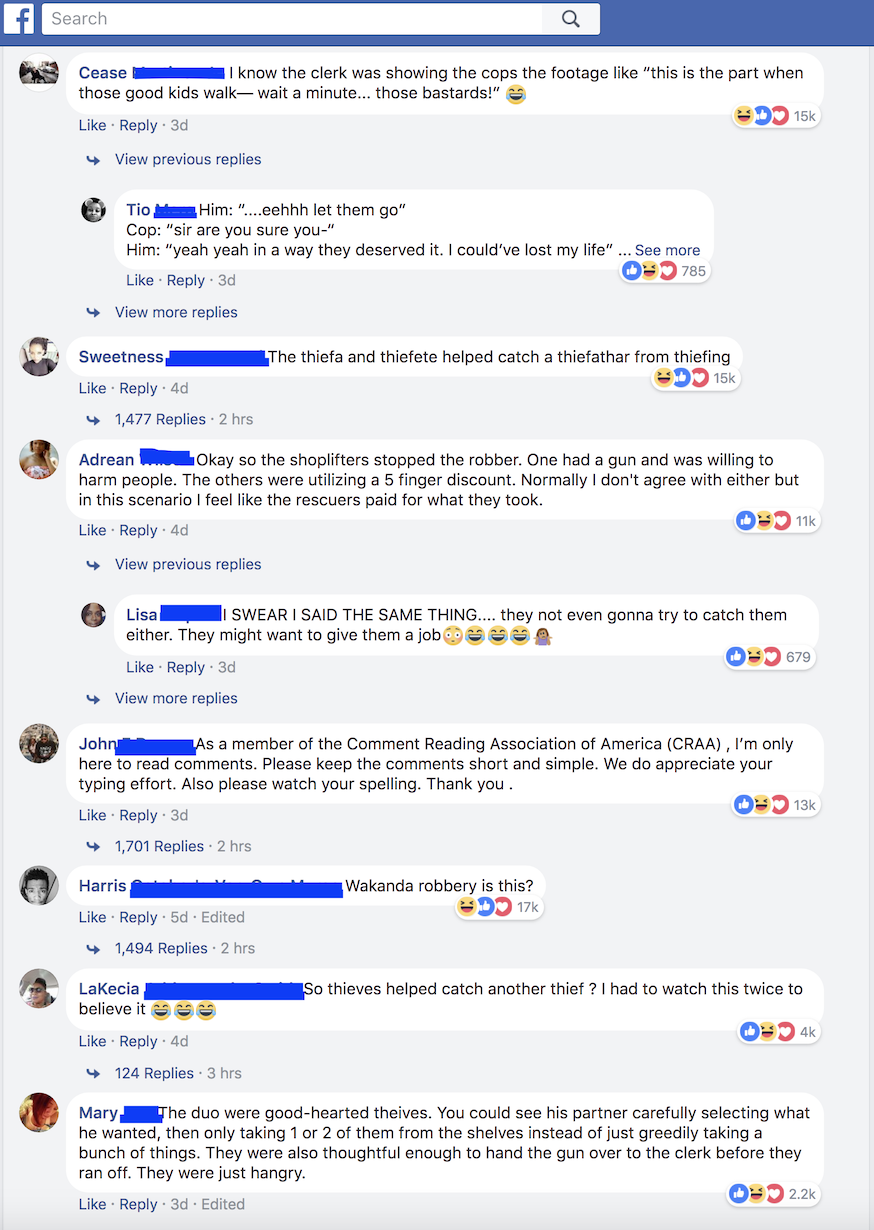 On a general note, the comments section is brilliant! It's a whole community of people from all walks of life. It's time consuming and you need to learn the online urban lingo to understand what is being said but, I am yet to read a comment section without laughing, cringing or smh. It's very entertaining!
Commenting itself is not a bad thing! Although it is advisable not to 'judge a book by it cover' (so to speak), the comments can actually give you a profiling analysis insight of the person posting it.
The real contentions are the ppl who uploads posts and later get upset by the comments. They sometimes forget that once you open the window, anything can fly in. By uploading to the Internet you invite a floodgate of hypes, insults and what's not, some good, many bad. Your business becomes everyone's business.
As much as we have freedom of speech and ppl have the right to post and say what they like on their pages, we should be mindful that there are vulnerable children; mentally ill and direct ppl involved with these comments. No one likes having nasty slanders or libels posted about them (even if they are true).
No matter how or which way you look at it, we are all connected. When something happens to a friend, family we are all affected.
I mean, the whole purpose of technology and all that is to bring us together, to make life and the world easier. This includes having moral obligations and being respectful to each other.
Yes, it is easy to say 'if you can't take the heat don't light the fire', but no man is an island unto himself and we, as human beings, want to be inclusive, be involved and be appreciated.
So its only natural that ppl want to have their five minutes of fame.
And there's no better place than the Internet! Especially in the Comments section – there's no place like it!
So next time you are online, why not check out the comments section? You will have more laughs and learn more than the subject matter itself. But mind you, its not for the faint hearted!
KBCrystal
---